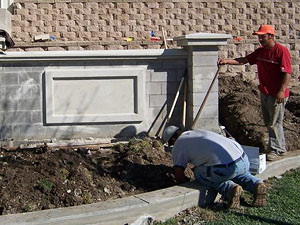 Westside Landscape & Concrete has been committed to providing quality landscape services since its very beginnings. As with all of our installations, the use of adequate commercial equipment and professional-grade landscape products provides our customers the peace of mind that they are being served with the best. The combination of superior equipment and products alongside a diligent work force allows us to present to our clients, jobs that are done right, the first time.
Our installation techniques are based on the need to work with natural forces. By providing the proper physical environment for each plant, the possibility for long-term health is maximized. Rather than rush through the job, we take the time to make sure it's done right—preserving the health of your plants, and your investment.
Our installation services include
Concrete: Driveways, Patios, Decks, Walkways, Mow Strips
Masonry: Brick, Flagstone, Cultured Marble, Pavers, Moss Rock
Wood Work: Fencing, Arbors and Trellises, Patio Covers
Landscape: Sprinkler Systems, Sod Installation, General Clean-Up, Tree Pruning & Removal, Hauling
Also: Water Features, Outdoor Barbeques and Kitchens, Outdoor Lighting, Retaining Walls and Much More!